This is slightly smaller version of 15mm piston. Above picture shows them both for comparision. It also can work with LITSW directly, or if you need brighter backlit - in conjunction with LITBO. It is noticeably brighter than its bigger brother. White cap only. The switch comes delivered with cap removed to simplify insertion of marking inside, printed on transparent foil.
---
actuator diameter 12mm
text area diameter 10mm
collar diameter 14mm
mounting hole diameter 12mm
full stroke 3.5mm
very good snap action and feel but it makes audible click
total depth from panel front face, including leads 31mm (23mm without leads)
total height over the panel 10mm
max panel thickness 6mm
high efficiency bidirectional white LED
---
Picture below shows how the botton lights up when driven by LITSW board.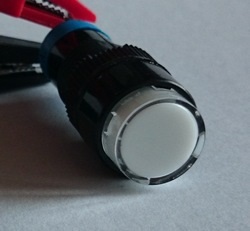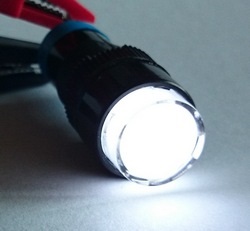 Connections are marked on the back as follows: COM - common, NO - normally open switch, NC - normally closed switch, +/- are for the backlit, polarity does not matter. For easier wiring with LITSW you can connect it like this

"NO" and "+" tied together and connected to LITSW blade connector marked "COM".
"COM" goes to even pins of LITSW (2,4,6,8,...)
"-" goes to odd pins of LITSW (1,3,5,7,...)
"NC" not usable with LITSW