If you plan to install usual pot in a pedal, it's impossible to get full rotation without additional gear. Pots used in expression pedals are special kind, where 90 degrees of rotation result in full change of resistance. To simplify mechanics of the pedal using typical potentiometer you can live with much smaller rotation angle, even as small as 30 degrees, and amplify it using this little utility board, so the output nicely covers entire 0 to 5V range needed by MIDI scanner.
The POTAMP can be soldered directly to potentiometer, hole spacing is typical for most pots, and hole size is bigger for easier fitting. Markings on the under side clearly describe where to put potentiometer, and how to connect it to MIDI scanner.
Diagram below describes functions of 2 trimmers. The left one (Position) is responsible for the offset, or in another words, the position of physical pot's wiper movement, either closer to the top end of the pot (clockwise) or the other one. The right one (Turn Angle) controls gain of the amplifier, so actually it defines how big the rotation angle should be to get at the output entire 0-5V change.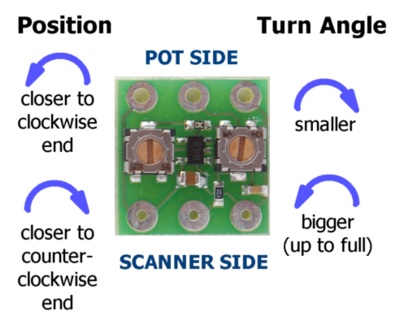 When adjusting your POTAMP, connect it to the potentiometer of course, and to MIDI scanner like POT12, BBSP, PEDSCAN, etc. and observe MIDI messages on a PC, or using MIDI monitor mode at LCD module. Turn the pedal/pot to the minimum, and adjust the "Position" trimmer to get 0 MIDI value. The push the pedal to maximum, and adjust "Turn Angle" to get MIDI value 127. You may repeat this procedure several times until you find ideal positions of those 2 trimmers.